In May 2000, after a childhood growing up in Aspen and climbing and skiing in Colorado's Elk Mountains, twins Mike and Steve Marolt and life-long friend Jim Gile became the first Americans ever to climb and ski from above 8,000 meters / 26,250 feet when they skied from the central peak of Shishapangma, Tibet.
This accomplishment placed them in an elite class amongst the world's greatest ski mountaineers. In 2003, the team followed up with a first ever American ski descent of the north ridge of Everest. In 2007, they skied the north ridge of Everest for a second time, and also became the first Americans and only the fifth people ever to attain multiple ski descents from above 8,000 meters when they skied from the summit of Cho Oyu, Tibet. Since then, they have completed many ski descents from the world's greatest peaks, including 6 from above 7,000 meters, making them the world leaders in high altitude ski descents. All told, their ski resume spans over 30 years with expeditions to some 50 of the world's greatest and highest peaks. They only climb "pure style" using no supplemental oxygen, porters, or altitude drugs, an aspect that enhances their accomplishments.
The Marolt brothers' ski heritage starts four generations ago when the family first arrived in Aspen Valley. Beginning as simple miners and barkeeps, they became ranchers and eventually world-class skiers. Mike and Steve's father, Max Marolt, joined the US Olympic team in 1954 and skied in the Squaw Valley Winter Olympics in 1960. Max's career in the ski industry spanned 60 years. He and his brother Bill have both been inducted into the Colorado Ski Hall of Fame.
The trio has also established themselves as independent filmmakers, having produced eight adventure documentary films, including SKIING EVEREST, which won the Ski Channel's Best Adventure Film of the Year in 2010. SKIING EVEREST has premiered all over the world, most recently on ESPN and PBS.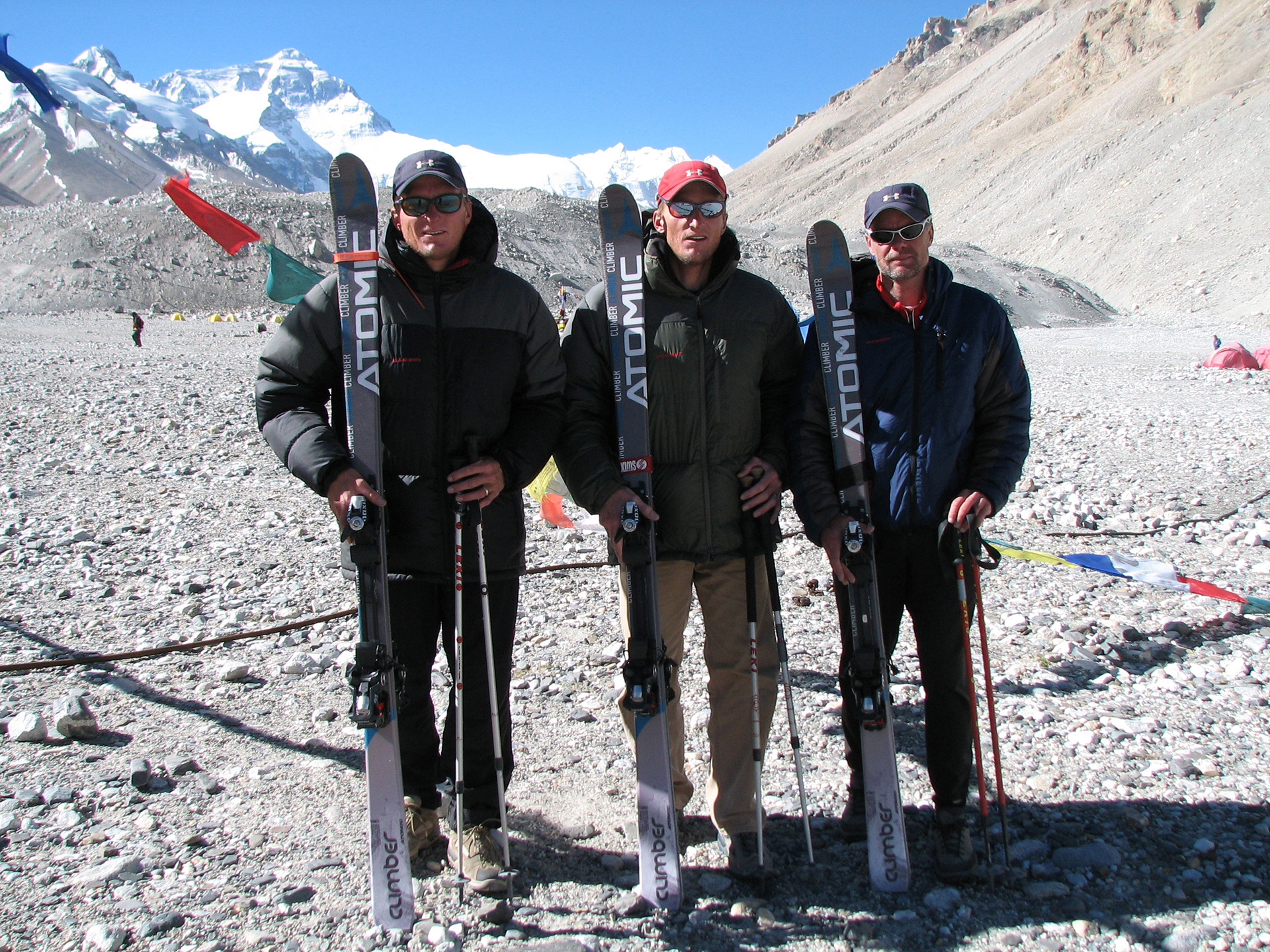 Major ski mountaineering accomplishments among others include
1990 Ascent of Denali, North America's highest peak
1991/1992 Ski expeditions to Canada's highest peak, Mt. Logan.
1993 to 1996 Ski expeditions in Alaska to St. Elias, Mt. Bona, Mt. Blackburn, Mt. Donna (second ascent).
1997 Attempt of Broad Peak, Pakistan, their first 8,000 m/26,250 ft. expedition
2000 First Americans to ski from 8,000 m/26,000 ft., Shishapangma, Tibet
2003 First Americans to ski Mt. Everest's North Ridge
2007 First Americans, 5th people ever, with multiple ski descents from above 8,000 m/26,000 ft., Cho Oyu, Tibet
2007 Their second ski descent of Mt. Everest's north ridge
2008 First Americans, second people ever, to ski Bolivia's highest peak, Sajama, 6,545 m/21,475 ft.
2009 First ski descent of Tibet's Norjin Kansang, 7,206m / 23,642 ft.
2010 First ski descent of Peru's Coropuna, Baraco Route, 6,425 m/21,079 ft.
2011 First Americans, second people ever, to ski Ecuador's highest peak, Chimborozo, 6,310 m/20,700 ft. (First and only single day speed ascent / descent)
2012 First Americans, second ever, descent of Bolivia's Illimani, 6,438 m/21,150 ft. (First and only single day speed ascent / descent).
2013/2014 Attempts at first ever winter ski descent from above 7,000 meters, Mustagh Atta, China.
2015 HImlung HImal Nepal, world record high winter ski descent, 21,000 feet.
2018 Induction to USA Ski and Snowboard Hall of Fame
2018 First ever ski descent Ampato, Peru, 6288 meters/20,630 feet; first ski descent Sabancya, Peru,5976 meters / 19,600 feet
2019 First ever ski descent Chumpe, Peru 6106 meters/  20,033 feet
2019 Wasatch Adventure Film Festival Recipients of The Mallory lifetime achievement award
Additional accomplishments
Inducted Explorer's Club Members, 2001
Listed in Outside Magazine's Top 25 Outdoor Achievements in The First 25 Years
Listed in Sports Illustrated's Famous Descents
Featured in National Geographic Explorer
Interviewed twice for CNN Today Show
Profiled in Forbes Magazine's Adventures with Jim Clash
Featured in Warren Miller's film Higher Ground (2006)
Featured on NBC World of Adventure Sports/OLN Adventure Quest
Outside Magazine feature story by Nick Paumgarten, 2010
Ambassadors/sponsored athletes for Atomic, Folsome Skis, Lowa, Mammut, Tissot, Under Armour, Platinum Performance and Aspen Skiing Company, among others
Spokesperson for Merck Pharmaceuticals, 2009
Creator of 24 Hours of Sunlight Ski Race, a benefit event for Multiple Sclerosis
Mike and Steve attribute their desire to help others to their friendship with Olympian Jimmie Heuga, another long-time Colorado resident and Ski Hall of Fame inductee. While still a teenager, Mike recalls when the brothers and their father met Jimmie in the gallery at a world cup race and were asked to help him get to his car. Mike was shocked as Max picked Jimmie up and carried him. That was the first time the brothers came into direct contact with the devastating effects of chronic disease.
This single experience led Mike and Steve to support the cause when asked by Jimmie to "fight the fight against MS". Jimmie challenged Mike, Steve and other young people like them to pick a fight, "any fight, cancer, homelessness, starvation, anything" and help "knock out all the terrible diseases and conditions "in the world. Mike became a board member for the Jimmie Heuga Center for MS and recently completed a documentary film on Jimmie's life, "Can Do": The Legacy of Jimmie Heuga. Mike and Steve use their films for fundraising purposes and attend events to inspire others, promoting both charitable giving and life in the mountains.